SDVC34- XLR6.0A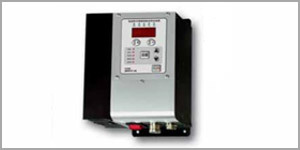 SDVC34- XLR6.0A
Price And Quantity
Product Specifications
for vibrator feeder controller

IP67
40-400 Hz Hertz (HZ)

85-260 Volt (V)
1.5-3W Energy

Switching Signal
190*147. 8*94.5(L*W*H, mm) Millimeter (mm)

SDVC34- XL:1930g(without accessory) Grams (g)
Product Description
FEATURES :
Auto FM: Automatic output frequency modulation in real time to ensure the vibratory feeder will always work. at its best vibration frequency.
Auto Constant Speed Control: Automatic output voltage adjustment in real time to ensure constant preset feed speed regardless of weight change of the feed material in the vibratory feeder.
Auto Frequency Measuring: Automatically measure and output the best vibration frequency of the vibratory feeder.
Automatic Voltage Regulation : Eliminate both feed speed variation caused by mains voltage fluctuation and beat effect caused by industrial AC frequency.
Sync Output Waveforms : Sync output waveform of the slave controller with that of the master controller to the same frequency and phase to avoid beat effect.
Remote ON/OFF Control: The controller has 2 groups of ON/OFF control ports. Switch sensor or PLC can be connected to them to turn on/off the controller.
Automatic Switch Sensor Type Recognition: The controller can recognize and adapt to both NPN and PNP type switch sensors.
Soft Startup: In order to avoid sudden shock to the feed material and vibratory feeder, the controller can gently increase output voltage/ feed speed from 0 to the preset value when startup.
Preset Speeds: 4 preset feed speeds can be stored and output by external short -circuit signal.
Max Adjustable Output Voltage: Max Adjustable Output Voltage can be preset to protect the vibratory feeder from damage caused by high vottage.
Remote Speed Control: Output Voltage/Feed Speed of the controller can be adjusted remotely by an external potentiometer, a PLC, or a 15V/4-20mA DC signal.
24V DC Control Output: The controller can output 24V DC power associated with logical relation setting of the ON/OFF Control to drive a solenoid, an electrical relay or other external devices.
RS485 Communication: All parameters of the controller can be adjusted via RS485 communication ports (for SDVC34-MJ & SDVC34-MRJ)
Counting: Count number of the feed material. The controller will stow down or stop feeding when count up to preset value. (for SDVC34-MR & SDVC34-MRJ)
TECHNICAL SPECIFICATIONS

Item

Range

Unit

Description

Min

Max

Input voltage

85

260

V

AC RMS Value

Output voltage

0

260

V

Less than 150% Input voltage

Output Current

0

6

A

SDVC34-XL SDVC34-XLR

SDVC34-XLJ SDVC34-XLRJ

Output Frequency

40

400

Hz

OutPut Power

0

1320

VA

SDVC34-XL SDVC34-XLR
SDVC34-XLJ SDVC34-XLRJ

Output Waveform

Sine

Voltage adjustmen Accuracy

1

V

Frequency Adjustment Accuracy

0.1

Hz

ON/OFF delay

0

20

s

ON/OFF Delay Accuracy

0.1

s

Soft Startup Time

0

10

s

DC Control output Voltage

22

26

V

DC output associated with ON/OFF control

DC Control output current

0

200

mA

Stand by Power Consumption

1.5

3

w

Display Method

5

Digit

LED Digital Tube

Control Method

1-5

V

Remote Speed

Control Voltage

Standard TTL Electric Level

Switching Signal

/

6 Buttons + LED screen

Work Space
Temperature

-10

60

C

Non-Condensing

Work Space Humidity

10

85

%
Trade Information
Cash in Advance (CID), Cheque, Cash Advance (CA)

1 Per Week